2019 International Conference on Indigenous Knowledge Systems and Practices (IKSP)
December 4, 2019

-

December 6, 2019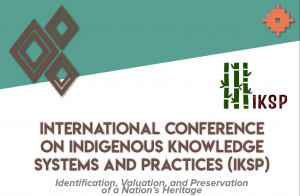 The International Conference on Indigenous Knowledge System and Practices (IKSP) 2019 is a 3 day event where invited proficient speakers will discuss about IKSP on December 4, 2019 (Wednesday) to December 6, 2019 (Friday) to be held Swiss-Belhotel Blulane, 609 Tomas Mapua Street, Santa Cruz, Manila.
This will address various development, challenges, and issues on IKSP confronted by various sectors in local and international settings in academic, research and advocacy work. In addition, participants will showcase their papers, photos, and video outputs. Invited cultural groups and organizations will exhibit their products and will give exhibitor's lecture.
For inquiries, please contact the Secretariat through email (cas-oadreps@up.edu.ph / ikspupm2018-registration@post.upm.edu.ph) or landline number (+632 8 310 1956 / +632 8 526 5860).
Kindly register here and avail the early bird rates until November 27, 2019.
Sponsorship Options: