Order Marks CAS Covid Vaccination Session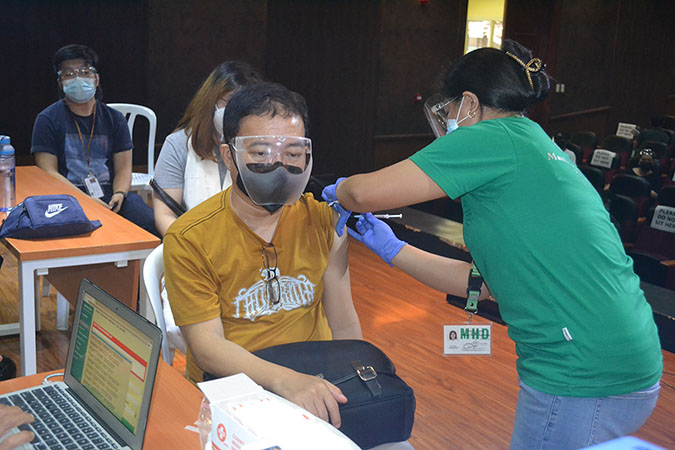 As the Covid virus grinds against the lungs of our country, Filipinos can't help looking for leadership to provide order and hope in their lives. Fortunately, last July 6, 2021, leadership, order, and hope were in great abundance at the College of Art and Sciences (CAS) as the dynamic Mayor of Manila, Isko Moreno, and the ever-caring CAS Dean, Dr. Leonardo Estacio, partnered to hold a Covid vaccination session for CAS faculty and staff at the UP Manila Theater.
The members of the CAS community consider themselves lucky that they were under the wings of two leaders who are always mindful of the needs of their constituents. What would normally be (as seen in various news accounts) hours of tiresome lines and mind-draining stress turned out to be a picture of effective management and leadership. With the session starting around ten in the morning, the CAS faculty and staff were in very good spirits, hopeful about their lives' eventual return to normalcy. A lot of them were joking and happily talking to each other like long lost friends.
Dr. Jay Dalet of the Department of Biology and Ms. Carlota Surat were the able and efficient managers who ensured that the logistics and handling of the event were without any hitches. Social distancing was observed as the organizers made sure to block rows of seats to ensure that the people would not be too close to each other. The medical personnel of the Manila Health Department were helpful in providing counselling and proper information about Covid and the vaccine. Dr. Gina Salazar of the Department of Arts and Communication received the first dose of the vaccine as well as some good-natured cheering from those in line. The line for the vaccine moved swiftly and the faculty and staff were one in praising the handling of the event, gratefully thanking the Manila Health Department and the CAS Administration for organizing the event – all of them going home with the hope that their droning lives will soon draw new breath.
Written by Asst. Prof. Jose Ogatis