STATEMENT OF THE UP MANILA COLLEGE OF ARTS AND SCIENCES ON THE ARREST OF ITS STUDENT, LLOYD MANANGO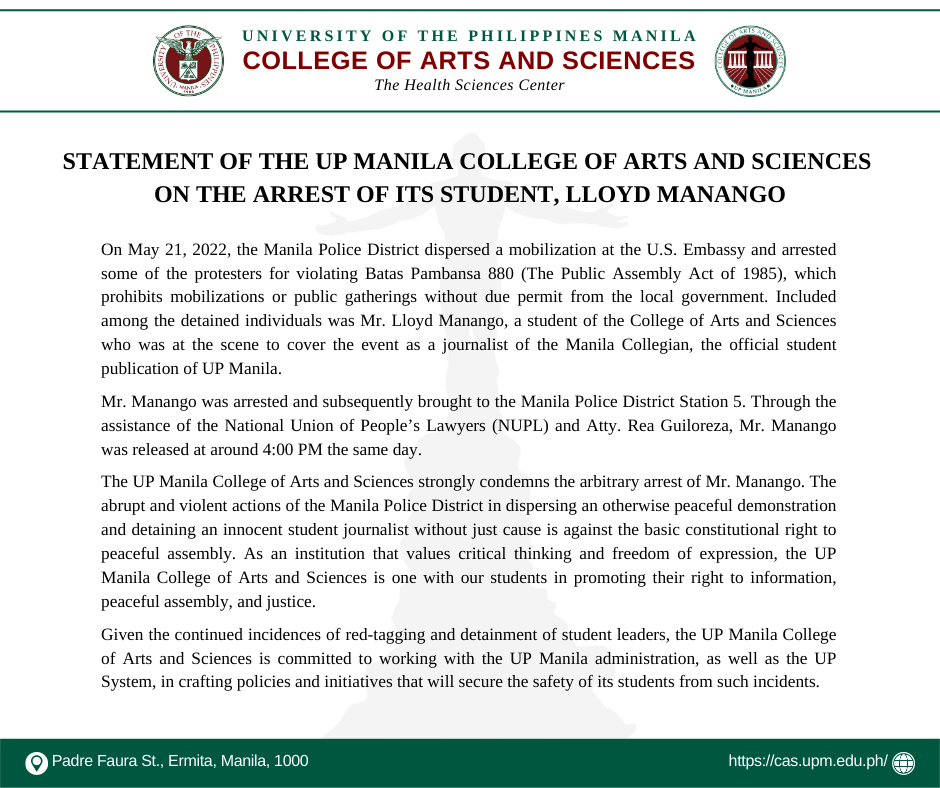 On May 21, 2022, the Manila Police District dispersed a mobilization at the U.S. Embassy and arrested some of the protesters for violating Batas Pambansa 880 (The Public Assembly Act of 1985), which prohibits mobilizations or public gatherings without due permit from the local government. Included among the detained individuals was Mr. Lloyd Manango, a student of the College of Arts and Sciences who was at the scene to cover the event as a journalist of the Manila Collegian, the official student publication of UP Manila.
Mr. Manango was arrested and subsequently brought to the Manila Police District Station 5. Through the assistance of the National Union of People's Lawyers (NUPL) and Atty. Rea Guiloreza, Mr. Manango was released at around 4:00 PM the same day.
The UP Manila College of Arts and Sciences strongly condemns the arbitrary arrest of Mr. Manango. The abrupt and violent actions of the Manila Police District in dispersing an otherwise peaceful demonstration and detaining an innocent student journalist without just cause is against the basic constitutional right to peaceful assembly. As an institution that values critical thinking and freedom of expression, the UP Manila College of Arts and Sciences is one with our students in promoting their right to information, peaceful assembly, and justice.
Given the continued incidences of red-tagging and detainment of student leaders, the UP Manila College of Arts and Sciences is committed to working with the UP Manila administration, as well as the UP System, in crafting policies and initiatives that will secure the safety of its students from such incidents.