CAS Recognition Rites Held on July 26 with Chel Diokno as Guest of Honor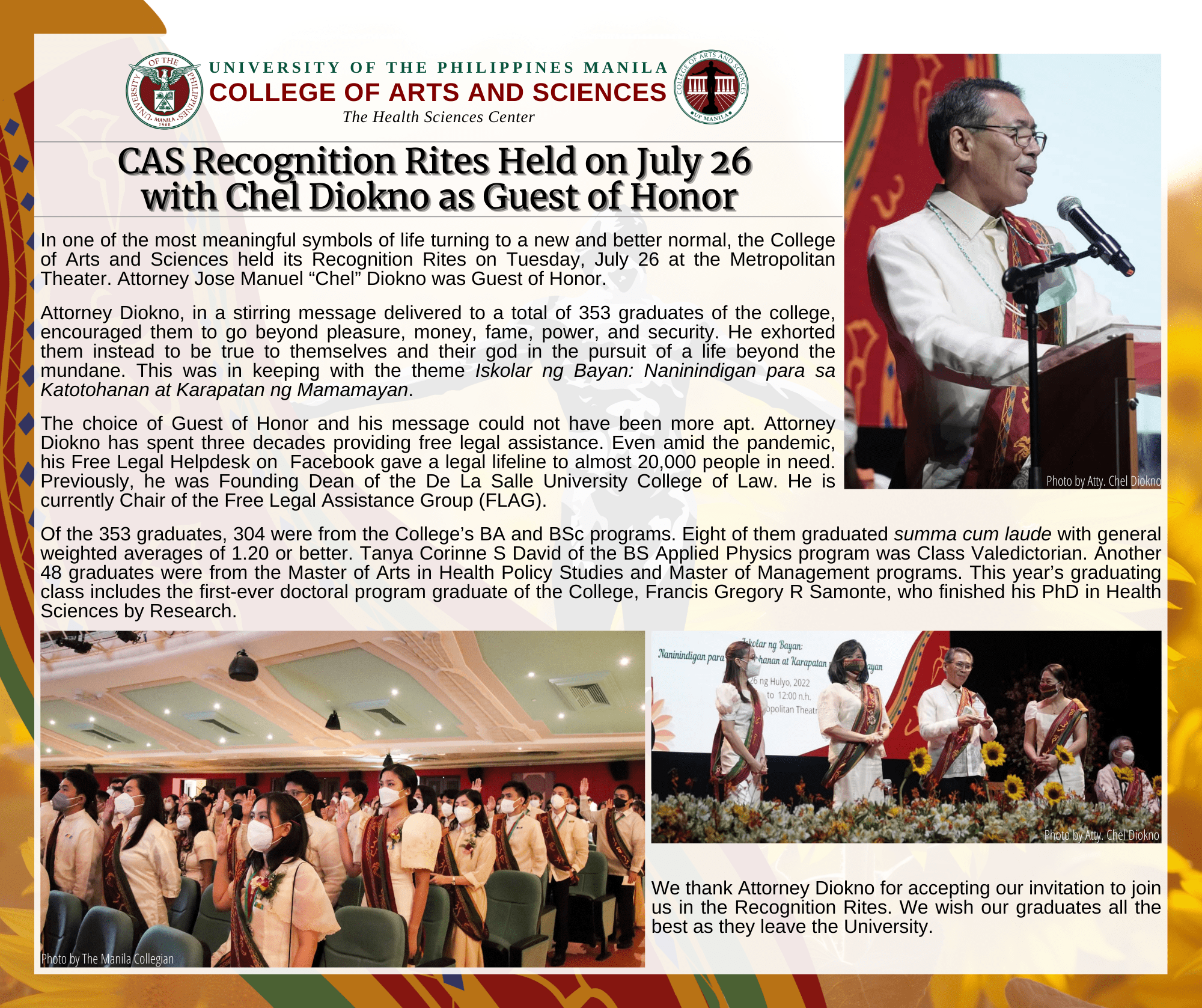 In one of the most meaningful symbols of life turning to a new and better normal, the College of Arts
and Sciences held its Recognition Rites on Tuesday, July 26 at the Metropolitan Theater. Attorney Jose
Manuel "Chel" Diokno was Guest of Honor.

Attorney Diokno, in a stirring message delivered to a total of 353 graduates of the college, encouraged
them to go beyond pleasure, money, fame, power, and security. He exhorted them instead to be true to
themselves and their god in the pursuit of a life beyond the mundane. This was in keeping with the
theme Iskolar ng Bayan: Naninindigan para sa Katotohanan at Karapatan ng Mamamayan.

The choice of Guest of Honor and his message could not have been more apt. Attorney Diokno has spent
three decades providing free legal assistance. Even amid the pandemic, his Free Legal Helpdesk on
Facebook gave a legal lifeline to almost 20,000 people in need. Previously, he was Founding Dean of the
De La Salle University College of Law. He is currently Chair of the Free Legal Assistance Group (FLAG).

Of the 353 graduates, 304 were from the College's BA and BSc programs. Eight of them graduated
summa cum laude with general weighted averages of 1.20 or better. Tanya Corinne S David of the BS
Applied Physics program was Class Valedictorian. Another 48 graduates were from the Master of Arts in
Health Policy Studies and Master of Management programs. This year's graduating class includes the
first-ever doctoral program graduate of the College, Francis Gregory R Samonte, who finished his PhD in
Health Sciences by Research.

We thank Attorney Diokno for accepting our invitation to join us in the Recognition Rites. We wish our
graduates all the best as they leave the University.