Popularizing Science with Kami Navarro
The Office of the Associate Dean for Research and Public Service (OADREPS) and the UP Biochemistry Society invite you to the webinar entitled Popularizing Science this April 26, 2023, from 10:00 a.m. to 12:00 a.m., via Zoom. We have invited Kami Navarro as our guest speaker!
Attending this talk merits you a certificate once you have accomplished the evaluation form.
Register at tinyurl.com/PopSciReg
If you have any concerns, you may send your email to the UPM CAS OADREPS (upm-cas-oadreps@up.edu.ph).
See you this April 26, 2023!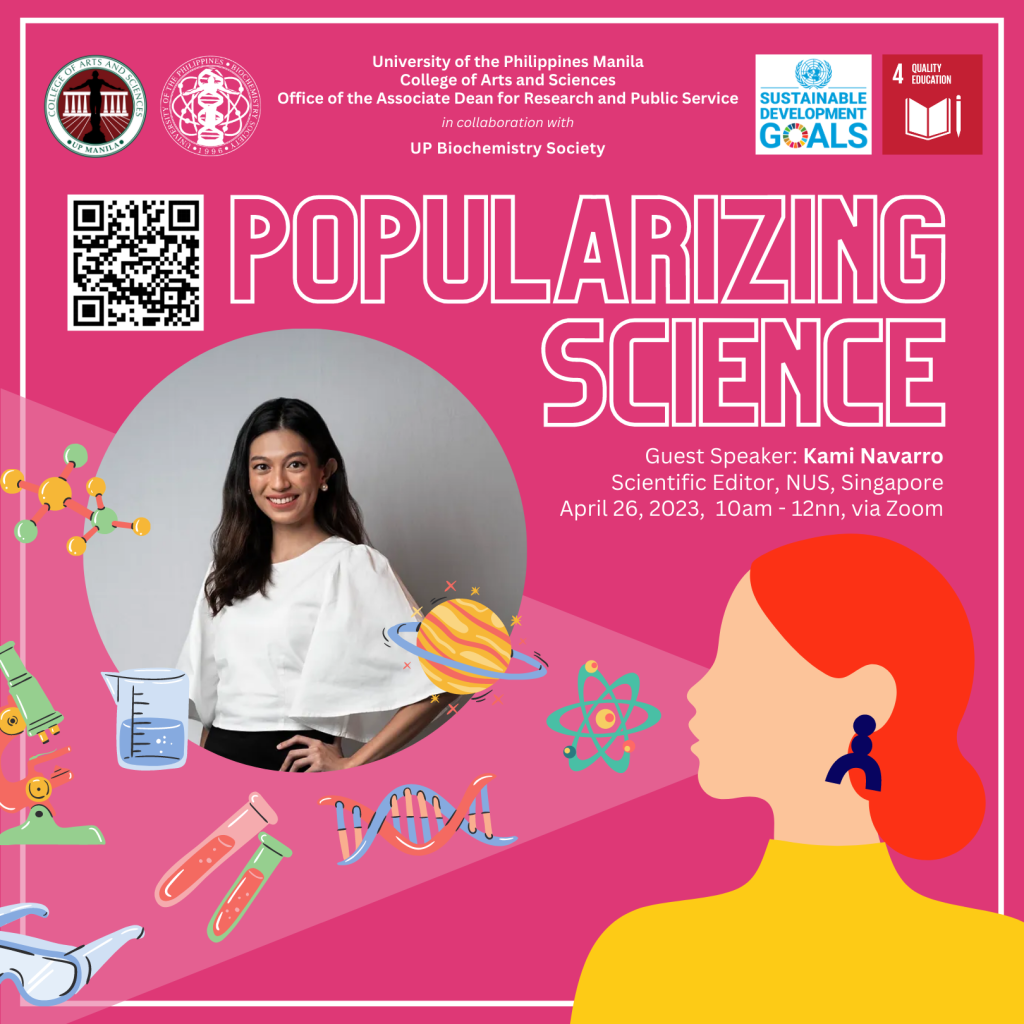 About the Speaker:
As the Scientific Writer and Editor at the National University of Singapore's (NUS) Synthetic Biology for Clinical & Technological Innovation, Kami Navarro spearheads the communications efforts of NUS' focal synthetic biology research programme. Previously, she was the Science Editor of a Singapore-based media agency, where she managed the award-winning science and technology publication Asian Scientist Magazine. Before her stint at Wildtype Media Group, Kami helped pioneer a curriculum for Science and Risk Communication in the Philippines. She has also published an article and a book chapter on the state of Philippine science communication; both works are regularly cited and used by the Philippine Department of Science and Technology in their outreach activities. Currently, Kami runs the day-to-day operations of Pinoy Scientists, a platform highlighting the unique scientific stories of Filipinos worldwide. She is also a member of the International Science Council's Panel of Experts for the Public Value of Science programme.